PROTECTION 1
AGAINST UV RAYS
PROTECTION 2
AGAINST HARMFUL BLUE RAYS
PROTECTION 3
ENSURE A LENS WITH PROTECTION AGAINST EXTERNAL REFLECTIONS
OUTDOORS
TRUST YOUR EYE PROTECTION
Ophthalmic lenses are important to correct potential visual anomalies, but also to protect your eyes from various external aggressions.
As our daily habits change, we are increasingly exposed to a large number of potentially harmful radiations.
Indoors
Indoors there is potentially harmful artificial light radiation.
Outdoors
Outdoors we are confronted with an increase in light sources that are harmful to our eyes.
Equipment
Every day we spend, on average, at least 4 hours in front of digital devices.
Prolonged exposure to ultraviolet (UV) rays may cause corneal damage. These can manifest themselves through changes in vision. UV exposure is associated with different forms of eye damage, such as early cataracts
Blue lights are more complex than we can imagine and are almost always around us. With the advent of digital equipment, e.g. digital screens (tablets, smartphones, LEDs), the exposure of the human eye to short-wave blue light has increased exponentially.
Vision is undoubtedly the sense that drivers use the most in their activity, for which it is essential to have a very good visibility of the road. One of the biggest obstacles in night driving is glare from road lights and other vehicles.
The POLO VISION PROTECT UV++ system, incorporated in the lens material itself, protects the eyes from the harmful effects of UV and blue light (light with a wavelength of up to 400 nm, also blocking short-wave blue rays up to 420 nm) with three clear benefits.
PROTECTION 1
AGAINST UV RAYS
POLO lenses absorb UV A-B ultraviolet rays
PROTECTION 2
AGAINST HARMFUL BLUE RAYS
The filters that make up the lens itself absorb rays up to 420 nm.
PROTECTION 3
ENSURE A LENS WITH PROTECTION AGAINST EXTERNAL REFLECTIONS
Aesthetically clear and transparent lens with multi-angle anti-reflection function.
Scratched lenses, difficulty cleaning, unwanted reflections are some of the issues mentioned by users of ophthalmic lenses.
The POLO SAFIRAuv 2.0 coating is the solution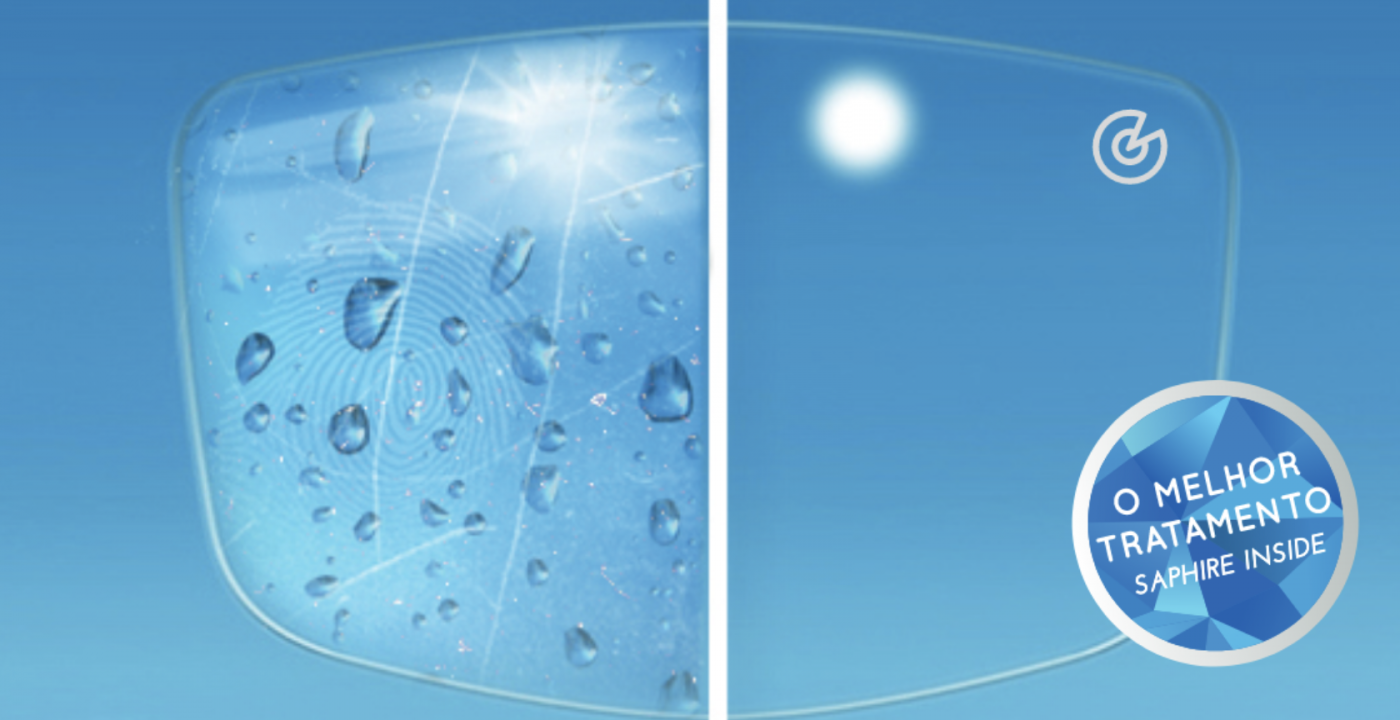 Main advantages:
Excellent hydrophobic capabilities (repels water droplets) – easier to clean;
Less smudges and less fingerprints;
Greater scratch resistance and durability;
This coating incorporates the Corindon-Sapphire ore, which is the second most resistant material to scratching, immediately after diamond (according to the Mohs scale);
Always clean and crystal clear vision, blocking 100% of UVA and UVB radiation, up to 400nm
Other issues mentioned by users are foggy lenses (intensified with the use of masks, while exercising or cooking), reflections, dirt, and dust.
ThePOLO HMC-FOG coating is the solution to all these issues.
We advise you to enhance the protection of your lenses with the POLO Anti-Fog spray.
Main advantages:
Anti-reflection and Anti-static treatment against dirt and dust;
Anti-fog treatment — excellent results against water condensation and foggy lenses, due to its hydrophilic capabilities (repels water in gaseous state — steam);
Would you like to have just one pair of glasses with lenses for indoor and outdoor environments that are really clear at home or in the office and dark enough outdoors?
PHOTOCHROMIC lenses are the ideal solution ADAPTATIONS 2.0 is POLO's exclusive brand for you
Exclusive technology developed by POLO that allows the lenses to darken or lighten according to the light intensity, reducing eyestrain in the most diverse daily situations. In addition to adapting to the light around us, these lenses protect your eyes from UV radiation up to 400nm
Main features:
Even darker and faster darkening – darker than previous generation 80% vs. 75%;
Fully clear indoors – up to 10% residual colour, imperceptible to the human eye;
Full UV protection up to 400 nm;
Longer durability – lenses last longer, delaying the yellowing effect over time;
Superior stability – lenses less sensitive to temperature variations.
Protecting our eyes from the sun is just as important as protecting our skin. Tinted lenses, in addition to a matter of style, have an essential protection function, indispensable when we simply enjoy the outdoors or engage in outdoor activities.
Did you know that you can have your lenses, with your own lens power in your favourite colour?
And that there are more suitable colours depending on the type of sport you engage in?
That you can choose a specific colour, with your lens power?
That you can also have neutral lenses, that is, without any lens power, which protect your eyes from the solar rays?
Our POLOTINTING range has the best lenses with uniform/gradient tinting or mirrored, fully customized, with 100% UV A-B protection, without affecting the perception of colours of your vision. Also ideal for people with high sensitivity to light. A line of lenses that offer accurate, quick vision, in extreme situations, with strong resistance to aggressions such as sunlight, reflections, harmful UV light, dust, scratches and sweat (perspiration).
Discover the various solutions we have for you!
Sports Lenses
Were developed to fulfil the most demanding needs of athletes, offering specific and customized solutions, such as the different shades of sun lenses, so that you can fully enjoy the most diverse sports activities.
The use of glasses in sports activities is essential to enhance performance and for accurate movements.

Anti-fog resistance can be enhanced by choosing a hydrophilic (repels water vapor — POLO HMC-FOG coating) or hydrophobic (repels water droplets — POLO SAFIRA 2.0 coating) coating, besides the complementary use of ANTI-FOG spray.
Polarised Lenses
Lenses for people who spend a lot of time outdoors. They guarantee extra protection for your eyes, as they are much more than just tinted lenses. They protect against glare, increase colour intensity and contrast, as well as protecting your eyes from harmful UV rays. They are suitable for driving, sports and outdoor activities.
BENEFITS FOR THE CUSTOMER:
Lenses that absorb light reflections and reduce the effect of glare;
Protect from harmful UVA and UVB harmful rays at 400 nm at 100%, providing comfortable vision;
Make the colours perceived more vivid and enable a more natural vision;
Compatible with different coatings;
Recommended for driving, skiing or water activities;